My First Rifle: The business of selling guns for kids
By Aaron Smith @AaronSmithCNN May 3, 2013: 2:59 PM ET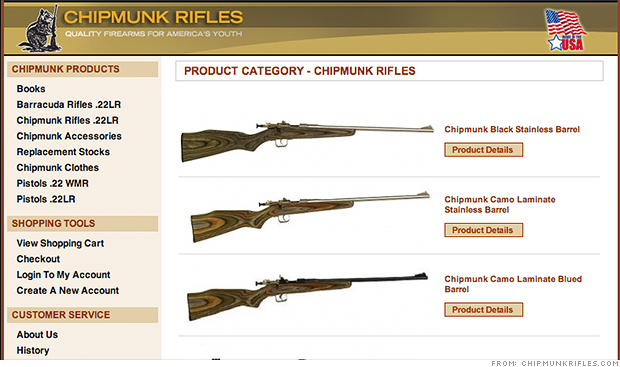 Chipmunk, a subsidiary of Keystone, sells guns designed for children, along with its sibling subsidiary, Crickett.
NEW YORK (CNNMoney)
The shooting of a two-year-old girl by her five-year-old brother has put a spotlight on smaller guns designed for children.
The gun used in the recent shooting in Kentucky was a Crickett .22-caliber rifle, marketed with the slogan "My First Rifle," from Keystone Sporting Arms in Milton, Pa. The single-shot rifle uses the smallest caliber available and is sold by major retailers, including Wal-Mart (WMT, Fortune 500), Cabela's (CAB) and Gander Mountain.
The Crickett website was down Friday due to "difficulties," according to John Renzulli, an attorney representing Keystone . But the site for Chipmunk, another Keystone brand, exhibited "quality firearms for America's youth" on its site, including .22-caliber rifles and pistols, with photos of children shooting them. The site includes a "kids corner" section.
Renzulli insisted that the company is not marketing firearms to children.
"No one's marketing to children," he said. "They're marketing to parents who would buy guns for children."
On its website, Wal-Mart markets the Crickett as a "youth rifle," while Gander Mountain's site describes it as a "great beginner's gun."
"All are lightweight and easy for youngsters to carry at the range and in the woods," reads the Crickett description on Cabela's site, which describes it as "a fun firearm to get your young shooter started with."
Wal-Mart did not immediately comment on whether their policy on sales of guns for children would change. Gander Mountain said it would not comment on potential policy changes, but added that it has launched a responsibility campaign aimed at keeping firearms away from "the underaged, untrained and unauthorized." Cabela's did not return a request for comment.
Related: Remington jobs rule the Rust Belt
Lawrence Keane, vice president and spokesman for the National Shooting Sports Foundation, the firearms industry group, described the youth firearm market as a relatively small slice of the gun industry, though large enough to have plenty of participants.
"A number of manufacturers make youth models of firearms for parents to purchase to introduce their children to adult-supervised target shooting," said Keane. "Millions of families all across America participate in the shooting sports as a family recreational activity. Children cannot purchase firearms from licensed dealers, of course."
Keane said safety has improved in recent years, saying data show that accidental fatalities involving firearms and children younger than 14 dropped by more than half over two decades to about 600 in 2009, the most recent year for available data.
Related: Gun and ammo sales fuel jobs boom
Brian Rafn, gun industry analyst and director of research at Morgan Dempsey Capital Management, described the youth gun segment as a small enough portion of the $4 billion industry to call it a "ghost market." He added that most states won't issue a hunting license to children younger than 10.
"I don't know of any state, and I've been hunting for 30 years, that would allow an armed five-year-old out in the woods during hunting season," he said. "In Wisconsin where I go hunting, if you were found out in the woods with a five-year-old with a gun, the game warden would have you in cuffs."
A friend of mine called me the other day to ask what I do when I think my kids are mindlessly repeating catchy tunes with wildly inappropriate lyrics.  Not a new problem.  I remember being taken aback when my then 3rd grade daughter and 1st grade son were singing the words, "Rob the jewelry store and tell 'em make me a grill," from Nelly's song, Grillz.  At the time, I told them anyone who likes to dance or sing recognizes Nelly's talent as an artist.  But those particular lyrics sounded ridiculous coming out of the mouths of elementary school children and I asked them to think about what they were saying.  Now they're adolescents.  Which means they think about it and say it twice as loud.  My personal opinion is these are teaching moments.  I mean it.  If you choose to, you can view parental outrage at kids' taste in music as a rite of passage.  We can't stop them from listening to popular music.  But we can laugh about how ineffective certain lines sound when you slow them down, take the music out and repeat it as if it is a line you are delivering to someone face to face.   Take the wildly popular "I'm sexy and I know it."  What reaction do you think you would get from a real person in real life if you looked at them and said, "I got passion in my pants and I am ready to show it."  Uh, okay.  Next.  For fun, I decided to check out the lyrics to the top 20 songs on the market right now.  You can, too, by going to www.songlyrics.com/top50.php.  Just to reassure you, of the top 20 songs kids are listening to, most of the lyrics are filled with sappy lines like, "we found love in a hopeless place, " which by the way, shows you in general, producers know their audience and that teenagers still like songs like that one where the same line is repeated 16 times.  I'm not saying lyrics today aren't racy or suggestive.  But, we should check them out and talk to our kids about the difference between words in art and words in action.  I love "Moves like Jagger," and like most Moms, hum mindlessly along when the kids are listening to it in the car.  Either the middle age filter of getting half the lines wrong has kicked in or I am just another distracted Mom but I have to admit i don't remember ever noticing the line, "Head to toe, oh baby, rub me right/ But if I share my secret You're gonna have to keep it."  Foster the People's "Pumped up Kicks" is interesting.  Great rock.  Cute, clean cut hipsters singing so softly they're like a mix of Robert Smith from The Cure and the boys in an Abercombie and Fitch ad.  They're tone is so … gentle.  The lyrics?  "All the other kids with the pumped up kicks, you better run, run, run.  Outrun my gun."  The bottom line (and I use that line casually after the stir created by Nelly over that music video for "Tip Drill" which showed someone swiping a credit card through, well, someone's bottom) is that the worst offenders with the most misogynstic lyrics don't make or stay on the Top 20 very long.   I remember teenage boys in my day loved the song "Beast of Burden" by the Rolling Stones.  And I don't think anyone took the lyrics literally.  (I'll never be your beast of burden / My back is broad but it's a hurting /All I want is for you to make love to me / I'll never be your beast of burden /I've walked for miles my feet are hurting /All I want is for you to make love to me ) Another popular song to "dedicate" was "Always and Forever." (Always and forever, each moment with you is just like a dream come true.)  Eesh.  Sounds like "we found love in a hopeless place, doesn't it?" 
Photo courtesy: valdez.wikispaces.dpsk12.org
One of the key promises then candidate Barack Obama made in 2008 was to open up pathways for illegal immigrants to gain U.S. citizenship.  There is no doubt that the Hispanic voting bloc in this country is gaining in size and power.  And that Hispanics could swing either way in 2012.  Latinos helped turn Colorado into a blue state for Obama.  And now immigration is creating a lot of friction between the Republican Presidential candidates.  Click here to see Mitt Romney and Gov. Rick Perry duke it out at the Republican Presidential debates in Las Vegas the other night.  Polls show Perry's numbers had already started to spiral downward after it was reported earlier that he had approved of in-state tuition for some illegal immigrants.  Michelle Bachmann doesn't just want to build one 1200 mile wall, she wants to build two.  In the meantime, Alabama was stopped from trying to get schools to investigate the status of students' parents but the states can begin deportation efforts if the students families are suspected of being here illegally.   Click here to learn more about  a tough new stance on immigration that encourages schools to ask children what their parents status is .  In Arizona and Alabama, the thinking is that if you can just quietly get "them" to leave, and presumably go back to Mexico, it will open up jobs for U.S. citizens.  The tricky part is the jobs that the illegals are low-pay, come without benefits, offer substandard housing and can involve shifts spent working in fields for 12 hours, 7 days a week.  And some of them aren't heading home, they're leaning on already cash strapped social services in surrounding states like Florida. Something has to be done.  And this is a core vote getter with conservative Republicans who recognize that the US cannot continue to turn a blind eye to the issue.  The question is this "let's make them a little less comfortable" approach better than building a wall?  Isn't asking a school to help deport a student who wants to learn like asking a doctor not to treat a sick patient?  And do Americans need jobs badly enough that they will step up and apply for the jobs immigrants may be vacating?
http://latino.foxnews.com/latino/politics/2011/10/20/analysis-perry-vs-romney-on-immigration/
http://www.nytimes.com/roomfordebate/2011/10/04/should-alabama-schools-help-catch-illegal-immigrants
http://www.nytimes.com/2011/10/20/us/politics/immigration-talk-turns-off-some-hispanics.html?ref=immigrationandemigration