My First Rifle: The business of selling guns for kids
By Aaron Smith @AaronSmithCNN May 3, 2013: 2:59 PM ET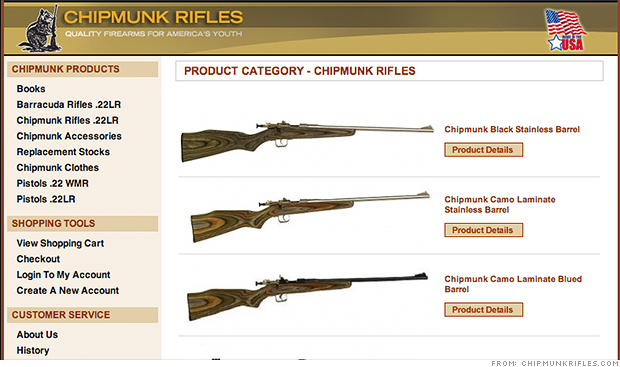 Chipmunk, a subsidiary of Keystone, sells guns designed for children, along with its sibling subsidiary, Crickett.
NEW YORK (CNNMoney)
The shooting of a two-year-old girl by her five-year-old brother has put a spotlight on smaller guns designed for children.
The gun used in the recent shooting in Kentucky was a Crickett .22-caliber rifle, marketed with the slogan "My First Rifle," from Keystone Sporting Arms in Milton, Pa. The single-shot rifle uses the smallest caliber available and is sold by major retailers, including Wal-Mart (WMT, Fortune 500), Cabela's (CAB) and Gander Mountain.
The Crickett website was down Friday due to "difficulties," according to John Renzulli, an attorney representing Keystone . But the site for Chipmunk, another Keystone brand, exhibited "quality firearms for America's youth" on its site, including .22-caliber rifles and pistols, with photos of children shooting them. The site includes a "kids corner" section.
Renzulli insisted that the company is not marketing firearms to children.
"No one's marketing to children," he said. "They're marketing to parents who would buy guns for children."
On its website, Wal-Mart markets the Crickett as a "youth rifle," while Gander Mountain's site describes it as a "great beginner's gun."
"All are lightweight and easy for youngsters to carry at the range and in the woods," reads the Crickett description on Cabela's site, which describes it as "a fun firearm to get your young shooter started with."
Wal-Mart did not immediately comment on whether their policy on sales of guns for children would change. Gander Mountain said it would not comment on potential policy changes, but added that it has launched a responsibility campaign aimed at keeping firearms away from "the underaged, untrained and unauthorized." Cabela's did not return a request for comment.
Related: Remington jobs rule the Rust Belt
Lawrence Keane, vice president and spokesman for the National Shooting Sports Foundation, the firearms industry group, described the youth firearm market as a relatively small slice of the gun industry, though large enough to have plenty of participants.
"A number of manufacturers make youth models of firearms for parents to purchase to introduce their children to adult-supervised target shooting," said Keane. "Millions of families all across America participate in the shooting sports as a family recreational activity. Children cannot purchase firearms from licensed dealers, of course."
Keane said safety has improved in recent years, saying data show that accidental fatalities involving firearms and children younger than 14 dropped by more than half over two decades to about 600 in 2009, the most recent year for available data.
Related: Gun and ammo sales fuel jobs boom
Brian Rafn, gun industry analyst and director of research at Morgan Dempsey Capital Management, described the youth gun segment as a small enough portion of the $4 billion industry to call it a "ghost market." He added that most states won't issue a hunting license to children younger than 10.
"I don't know of any state, and I've been hunting for 30 years, that would allow an armed five-year-old out in the woods during hunting season," he said. "In Wisconsin where I go hunting, if you were found out in the woods with a five-year-old with a gun, the game warden would have you in cuffs."
By Frances X. Clines, New York Times
The morning after Neil Heslin wept at a Senate hearing while describing the slaying of his 6-year-old son, Jesse Lewis, here in the Sandy Hook Elementary School massacre, the suburban quietude along Main Street seemed unchanged.
The word from the hearing was that despite Mr. Heslin's plea, hope is fading fast for a ban on the type of bullet-spraying assault rifle that took the lives of 20 children and six adults at the school last December. That rebuff hardly alters events in Newtown, which remains trapped in a reality that has not gotten far beyond the carnage.
Some two dozen new civic organizations have been galvanized by the tragedy, dedicated to various reform causes — though residents disagree over whether to enforce school safety with armed guards and whether Sandy Hook school, still a taped-off crime scene, should ever be reopened.
Life is settling into the familiar duality of American gun mayhem: politicians feel freer to talk of ever-more-limited action as time moves beyond the horrific event, while a scarred community is left to struggle with an indefinite future. A forum the other night in Danbury reflected this civic ritual as survivors of other tragedies — Columbine, 9/11 and the assault on the Sikh temple in Wisconsin last August — offered advice on what to expect next as the spotlight dims. A month after her son Dylan died in the massacre, Nicole Hockley firmly told a gun-control forum, "I do not want to be someone sharing my experience and consoling another parent next time."
The news from Washington suggests that there is very likely to be a "next time." As the possibility of approving an assault-weapons ban fades, gun-rights absolutists are shifting to defeat proposals to close dangerous loopholes in the background checks on gun buyers.
Here, the gun tragedy remains immediate. "At first, life here was a constant tear-jerking drive around town," said Greg Pategas, a lawyer who has two youngsters in the school system. "Those signs and banners about fallen angels and all, just constant. I felt a yearning for some type of comfort," he said in explaining his campaign to collect the hundreds of thousands of messages of grief received from around the world and archive them as a remembrance of human kindness.
The resolve to make life better here is reflected in such volunteer organizations as the Newtown Action Alliance, Sandy Hook Promise and the local library's free "Books Heal Hearts" program that offers everything from the Bible to self-help books on tragedy and even primers for worried children like "A Terrible Thing Happened." The weekend before last, a warehouse packed with an enormous inventory of toys and other gifts that flooded the town reached a point where local officials had to distribute them to long lines of recipients. Money donations from around the nation and world are estimated in the multimillions.
Even in Newtown, setting up charities is simpler than dealing with conflicting passions over gun control. The town is national headquarters for a leading anti-gun-control organization, the National Shooting Sports Foundation, and home to several gun ranges popular with target shooting groups.
Lately, there has been concern over homeowners setting up outdoor shooting ranges on their land, drawing complaints from neighbors over frightening rat-a-tat thunder from the same sort of legal assault weapon that was used in the school assault.
A man was reported recently to have been struck in the hand by a stray bullet from an exuberant backyard "shooting party" that is legal under 40-year-old safety ordinances. These predate the long-range assault pistols and rifles favored these days by suburbanites. Some residents hope Newtown can show more courage than Washington and deal forthrightly with its own need to tighten local gun controls.
<nyt_correction_bottom>
<nyt_update_bottom>