My First Rifle: The business of selling guns for kids
By Aaron Smith @AaronSmithCNN May 3, 2013: 2:59 PM ET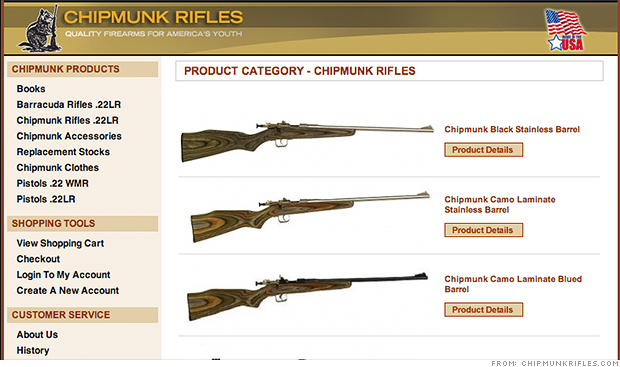 Chipmunk, a subsidiary of Keystone, sells guns designed for children, along with its sibling subsidiary, Crickett.
NEW YORK (CNNMoney)
The shooting of a two-year-old girl by her five-year-old brother has put a spotlight on smaller guns designed for children.
The gun used in the recent shooting in Kentucky was a Crickett .22-caliber rifle, marketed with the slogan "My First Rifle," from Keystone Sporting Arms in Milton, Pa. The single-shot rifle uses the smallest caliber available and is sold by major retailers, including Wal-Mart (WMT, Fortune 500), Cabela's (CAB) and Gander Mountain.
The Crickett website was down Friday due to "difficulties," according to John Renzulli, an attorney representing Keystone . But the site for Chipmunk, another Keystone brand, exhibited "quality firearms for America's youth" on its site, including .22-caliber rifles and pistols, with photos of children shooting them. The site includes a "kids corner" section.
Renzulli insisted that the company is not marketing firearms to children.
"No one's marketing to children," he said. "They're marketing to parents who would buy guns for children."
On its website, Wal-Mart markets the Crickett as a "youth rifle," while Gander Mountain's site describes it as a "great beginner's gun."
"All are lightweight and easy for youngsters to carry at the range and in the woods," reads the Crickett description on Cabela's site, which describes it as "a fun firearm to get your young shooter started with."
Wal-Mart did not immediately comment on whether their policy on sales of guns for children would change. Gander Mountain said it would not comment on potential policy changes, but added that it has launched a responsibility campaign aimed at keeping firearms away from "the underaged, untrained and unauthorized." Cabela's did not return a request for comment.
Related: Remington jobs rule the Rust Belt
Lawrence Keane, vice president and spokesman for the National Shooting Sports Foundation, the firearms industry group, described the youth firearm market as a relatively small slice of the gun industry, though large enough to have plenty of participants.
"A number of manufacturers make youth models of firearms for parents to purchase to introduce their children to adult-supervised target shooting," said Keane. "Millions of families all across America participate in the shooting sports as a family recreational activity. Children cannot purchase firearms from licensed dealers, of course."
Keane said safety has improved in recent years, saying data show that accidental fatalities involving firearms and children younger than 14 dropped by more than half over two decades to about 600 in 2009, the most recent year for available data.
Related: Gun and ammo sales fuel jobs boom
Brian Rafn, gun industry analyst and director of research at Morgan Dempsey Capital Management, described the youth gun segment as a small enough portion of the $4 billion industry to call it a "ghost market." He added that most states won't issue a hunting license to children younger than 10.
"I don't know of any state, and I've been hunting for 30 years, that would allow an armed five-year-old out in the woods during hunting season," he said. "In Wisconsin where I go hunting, if you were found out in the woods with a five-year-old with a gun, the game warden would have you in cuffs."