ST. LOUIS — For an iconic shift in the ideology of our culture all it takes is one voice. One voice to provoke people to rethink. One voice passionate enough to diffuse idle chatter into real change. Mike Matheny has a voice.  
"I don't know how long I'll have this platform," said Matheny, the manager of the St. Louis Cardinals. "But I want to use this opportunity [for people] to not just hear from me but hear from these guys [on the team]." 
Matheny started a blog this year where he hopes to give people a different option for how to go about coaching at the youth level. Anyone can start a blog these days, but the real story is that his blog posts are extremely popular. One of his recent posts, "Are you really helping them by yelling?" has over 5,000 Facebook shares. One excerpt: 
"If you think that yelling (even encouraging words) and mechanical instructions are helping your child, the odds are that you are making it more difficult, and more stressful for them. They have the rest of their lives to learn about pressure and stress. Let them have fun."

Matheny was actually coaching youth baseball when the Cardinals reached out to him after Tony La Russa retired. "The site has really been an encouragement for me because I'm hearing responses from people saying, 'This made a difference,'" Matheny said. "I need to hear that. You know, I've got a job to do here. That's my first absolute priority, next to obviously my off-the-field family priorities, but after that this is a great opportunity to make a difference." 
[+] Enlarge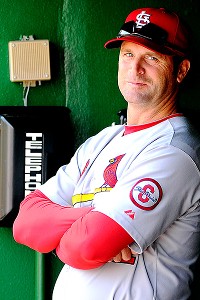 Brad Mills/USA TODAY SportsCardinals manager Mike Matheny often winds down by writing for his blog about Little League baseball.
There are a lot of different ways major league managers can spend the very little free time they have, but Matheny says he doesn't watch much TV — he works on the blog. 
"When I want to shut down my brain I usually grab a book and I'll read," Matheny said before a recent game against the Reds. "Or, I'll go home and my kids are still in school so my wife is on the school schedule. When I get home everyone's asleep. I need time to wind down. Usually I'll sit down and start knocking out some thoughts." 
His thoughts, ranging from a call for parents to stop yelling at their kids when they are playing ball to encouraging families to go outside and play, have gone viral and are making a difference in the ideology of youth baseball. 
"First of all I want to change [the parents'] mindset to bring them back to reality that the fact is that less than 1 percent of these kids are going to go play in college," Matheny said. "So, let's use baseball as an avenue to impact their lives. Let's talk about character and let's not just talk about it, let's implement it on the field." 
Our children are our most precious gift, a marvel of blossoming uniqueness and individuality. Why do parents and coaches try to crush a child's spirit on the baseball field rather than build them up? This is the attitude Matheny wants people to rethink. 
One of the main threads on Matheny's blog is how most of the guys who have a successful major league career had coaches and parents who made baseball fun. This is not a coincidence, he says. 
Cardinals infielder Matt Carpenter said his experience in Little League was exactly as Matheny explains it should be on his blog. 
"I had a really good Little League baseball coach," said Carpenter. "It was a guy that was great at what he did. Basically the same principles that Mike talks about are what this guy had." 
While Carpenter never had a moment where he wanted to quit baseball because of screaming parents or adults, he said he knows guys who have walked away from baseball because of it. 
"I know exactly what it's like. I've seen it," Carpenter said. "Parents can become a disaster when it comes to that. Really, I've seen it at the high school level too. My dad is a high school coach and parents can get in the way and down on their son. They put unneeded pressure on them. It's definitely an issue." 
Matheny says when you talk to baseball players the people with the greatest impact on their lives are their families, followed by — whether they are "good, bad, ugly or indifferent" — their coaches. 
He doesn't want kids to miss developing a love for baseball because of a bad coach. 
"It's not baseball's fault," he passionately voiced. "I think it's a lack of education about how you go about teaching at the youth level. … Let's change the whole thinking process to let's do something to impact these kids' lives on an individual basis. … Let's teach them a passion for the game first, teach them a love for the game of baseball; and secondly, why not use the opportunity to teach them character?" 
It is apparent Matheny has a gift. He has a remarkable ability to affect change in the lives of people with his voice. He says he wants to just inform parents through his website, but in reality he's helping people to rethink how they treat their kids. The comments section has parents saying they didn't realize what they were doing could harm their child. 
"I feel blessed to be a part of it," he says. 
One voice. It can change a coach. It can change a parent. And most importantly, it can change a child. Just imagine if kids stop feeling like they can never do anything right and develop into happy, confident kids who love to play baseball just because it's fun. 
Anna McDonald is a regular contributor to the SweetSpot blog. Follow her on Twitter @Anna__McDonald.